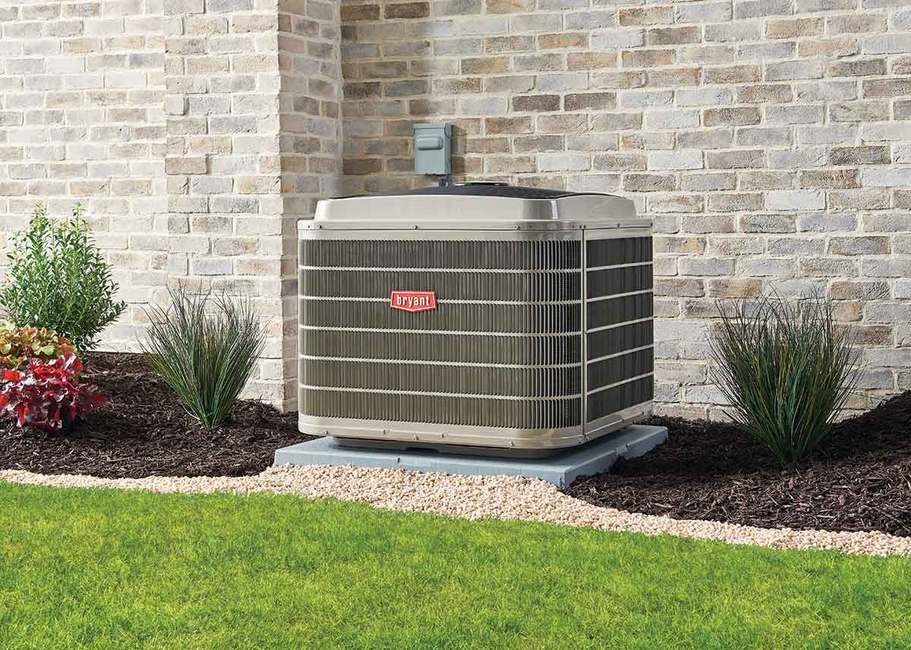 There's no need to suffer through another long, hot, sticky summer with no relief.  You deserve a refreshingly cool home 24 hours a day.  Call Lea Heating & Air Conditioning and we'll design an energy efficient, cost-effective and reliable cooling system you can live happily with for years to come.
Today's improved air conditioners use 30% to 50% less energy to generate the same amount of cooling as models from twenty years ago.  Even if your air conditioner is only ten years old, you stand to save 20% to 40% of your cooling energy costs with the installation of a new high-efficiency model.  At Lea Heating & Air Conditioning, we offer the latest innovations to bring you the most convenient, powerful and satisfying cooling products available.
Proper air conditioning installation procedures
Adequate sizing and proper installation are the key factors in your new air conditioner living up to expectations of efficiency and longevity.  Too large of a unit won't sufficiently remove humidity, will cycle on and off continually, never reach ideal efficiency levels, and won't last as long as it should because of excess strain on components.  Too small of a unit can't reach desired comfort levels, will run constantly and cost much more to operate.  If your unit is installed and sized correctly, it should provide you with uninterrupted comfort for the next fifteen to twenty years.  Trust the trained professionals from Lea Heating & Air Conditioning to answer any questions you might have, make practical recommendations, and factor in much more than square footage when sizing equipment for your home.
Lea Heating & Air Conditioning has handled the comfort needs of homeowners in Huntley, Hoffman Estates, Bartlett, Inverness, Barrington, Streamwood, Crystal Lake, & Cary, IL for over 39 years. The heat and humidity of summer causes your air conditioner to work hard during a Northwest Illinois summer.  Our experienced HVAC technicians will take into consideration the number of windows and doors, quality of insulation, ceiling height, unconditioned spaces such as basements and attics, and everything from shade trees to humidity concerns, before making recommendations.  Our trained specialists will take the time to discuss options and keep you informed during every step of the process.
A/C Installation Experts Serving Huntley, Hoffman Estates, Bartlett, Inverness, Barrington, Streamwood, Crystal Lake, & Cary, IL
At Lea Heating & Air Conditioning, we have the experience, technical know-how and dedication to do the job right.  Our NATE-certified air conditioning technicians take care of the little details and major concerns, to ensure safe, reliable and rewarding performance.  We check for adequate indoor space to facilitate installation, maintenance and repair of your new system.  We utilize duct-sizing methodology to ensure proper fit.  We make sure there are sufficient supply registers to deliver cool air and enough return registers to direct warm air back to the air conditioner.  By carefully locating the condensing unit, we prevent nearby objects from blocking airflow and limit the possibility of noise bothering you or your neighbors.
Lea Heating & Air Conditioning is a Bryant Factory Authorized Dealer, recognized for unparalleled performance.  From dependable service to technical expertise, our team has met Bryant's high standards for exemplary skills, service and dedication.  Bryant has been improving home comfort for over one hundred years.  The Evolution System includes sound-dampening features in the cabinet, fan system and top for better airflow, reduced noise and superior efficiency.  With up to 20 SEER, this sleek-designed line of quality cooling systems far surpasses expectations for energy efficiency.  Two-stage operation allows these models to maximize comfort while keeping energy costs and humidity under control.  Bryant also utilizes Puron refrigerant, designed not to harm the earth's ozone layer and approved by the US Environmental Protection Agency.
Contact Lea Heating & Air Conditioning for A/C in East Dundee!
For the best cooling options in Elgin, Carpentersville, West Dundee, East Dundee, Algonquin, Sleepy Hollow, & Lake in the Hills, IL and the Fox Valley area, call Lea Heating & Air Conditioning.  As a Comfort24-7 Provider, we guarantee our work and installed equipment for two years or your money back.  We offer free estimates, plus, flexible financing options with approved credit.  At Lea Heating & Air Conditioning, we do everything in our power to keep prices competitive and quality high.  To get the most enjoyment out of your summer and the best investment for your cooling dollar, contact us at 847-305-2800.  You'll either speak directly to a member of the Lea family or a long-term member of our work family.
---
Air Conditioning Installation in Elgin, Carpentersville, West Dundee, East Dundee, Algonquin, Sleepy Hollow, & Lake in the Hills, IL